Our Approach
Diagnosis Treatment Rehabilitation
Turn to Experience!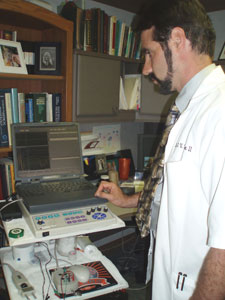 When you are in pain, even the simplest task or movement can become a chore, and sleep impossible. A pain killing drug is not the best answer. While it will soothe the immediate pain, it will not correct the underlying problem, it will recur and the pain-drug cycle has been started! Pain does not have to interfere with your lifestyle. Your path to recovery can begin today
Our approach is simple:
Diagnosis: You will be given a thorough examination that includes standard medical and chiropractic tests, including orthopedic, neurological, and biomechanical tests to determine the cause of your problem and rule out other causes. This may include x-rays or more sophisticated MRI, CT or Ultrasound tests. This is called Differential Diagnosis.
"Successful outcome of care with relief of your complaint begins with a thorough examination. While the cause of some problems seems obvious, many underlying conditions are silent until an accident or injury causes symptoms, which are a clue to your real problem. We will not guess at the cause of your problem."

Dr. Greg Hollstrom
Treatment: We use state of the art equipment and the latest techniques to correct your problem and give you relief from your symptoms. It may include: Gentle spinal manipulation, Cox™ Axial Decompression for Disc or Facet or Stenosis Problems, and physical medicine modalities such as electrical muscle stimulation and ultrasound, galvanic stimulation or mechanical traction, etc. Class 4 Laser Therapy for the treatment of Peripheral Neuropathy, Carpal Tunnel and many other inflammatory and degenerative conditions.
"Manipulation has been shown in many scientific research studies to be the most cost effective and outcome effective method of treating back and neck pain and related conditions. It is safe and painless in experienced and skilled hands, and axial decompression is an exciting state of the art adjunct to manipulation, that has been shown to provide quick and effective relief of symptoms for those with disc herniations, spondylolisthesis and spinal stenosis."

Dr. Brian Rebori
Rehabilitation: With specific structured exercise under the supervision of an exercise therapist, we work to correct the weakness or biomechanical disturbance that allowed the injury to occur as well as return you to the best possible physical condition. It is tailored to your needs, and may include, home care instruction, specific exercises and help you correct bad habits that may be causing your problem such as improper lifting, poor sleep and work posture.
"Specific exercises tailored for the exact condition that you have can prevent repeated reinjury. Lifetime exercise programs in conjunction with dietary considerations, and stress reduction can keep you healthy for life!"

Dr Greg Hollstrom II