Introducing Our Doctors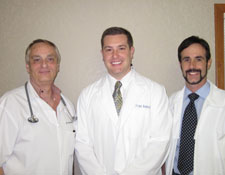 We have been in Florida since 1987, but our practice is much older than that. Hollstrom Chiropractic Clinic began in Cheboygan Michigan in 1951. It was started by Vernon Hollstrom, DC. He practiced there until 1967. He instilled in his children a love for the chiropractic science and art and all four of his children became Chiropractic Physicians.
Dr. Gregory V Hollstrom graduated from National College of Chiropractic in 1970. He took over his father's practice in Cheboygan, MI and practiced there until he moved to Florida in 1987. Dr. Hollstrom has done extensive postgraduate education including:
Diplomate status in Chiropractic Neurology
300 hour Continuing Education Courses in Advanced Pharmacology, Internal Medicine, and Family Practice.
Impairment Rating and Disability Rating.
Board of Trustees, National University of Health Sciences (now affiliated with St. Petersburg College as well as the Lombard, IL campus).
Examiner, State of Florida, Board of Chiropractic Medicine
Expert Witness, State of Florida, Department of Legal Affairs, DOH.
Former Expert Advisor for State of Florida Workers Compensation System.
Medical Director, Chiro Alliance Corporation
American Chiropractic Association
Florida Chiropractic Association
Dr. Gregory Hollstrom II has the distinction of being a third generation chiropractic physician as the son of Dr. Hollstrom and Grandson of Dr. Vernon Hollstrom.
Undergraduate Education: Lyman Briggs College, Michigan State University.
Doctor of Chiropractic Degree, 1992, National University of Health Sciences.
Board Certified, American Board of Chiropractic Neurology.
Certified, Electrodiagnostic Medicine (EMG, NCV, etc)
Certified by Cox™ Institute in Distraction-Axial Decompression.
Continuing Education in Orthopedics, Neurology, Radiology.
Completed training in Impairment and Disability Rating.
Member: American Chiropractic Association
Florida Chiropractic Association
American Chiropractic Neurology Board
Dr. Brian Rebori joined our clinic practice in 2008, after working in a group practice in Largo.
Associate of Arts Degree and Bachelor's of Professional Studies Degree with concentrations in Life Sciences. Doctor of Chiropractic Medicine degree from New York Chiropractic College in 2005.
Internships in Seneca Falls and Levittown New York Student Health Centers, and the Salvation Army Clinic in Freeport, NY.
He additionally did rotations at the Central Nassau Guidance and Counseling Services in Bethpage NY and at the State University of New York at Farmingdale at the College Infirmary.
Certification course in Impairment Rating
Certified in Cox™ Axial Decompression.
American Chiropractic Association
Florida Chiropractic Association